Fewer than 40% of small businesses have an SEO strategy in place, though an additional 38% plan to have an SEO strategy in the future according to research.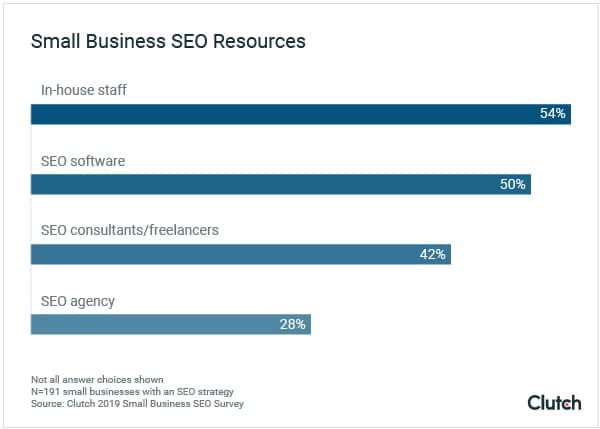 The new survey from Clutch, indicates small businesses understand the value of SEO as more people rely on search engines to research and purchase products.
Clutch's survey reviews how small businesses approach SEO and PPC advertising in 2019.
Key findings from THE survey include:
60% of small businesses with SEO strategies invest in pay per click (PPC) advertising, an increase of 15% from 2018. An additional 17% plan to invest in PPC in 2019.
Social media marketing (63%) is the most common SEO effort for small businesses, followed by maintaining a mobile-

fri

endly website (54%) and keyword research (51%).
More than half of small businesses (54%) depend on in-house staff for SEO services, nearly double the number that hire an SEO agency (28%).
Traffic from search engines (25%) is the primary metric small businesses track to determine the success of their SEO strategies, followed by leads and conversions (19%) and backlinks (14%).
The full report is here: https://clutch.co/seo-firms/resources/small-business-seo-2019